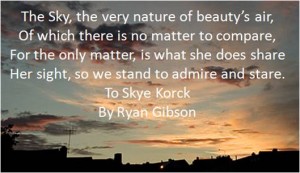 Skye's Song
One amazing song resonates in the atmosphere,
Through clouds, light, depth of where we exist,
Full of life, in dusk or dawn we do hear,
Her majestic lulling wind whisper, a catalyst,
That whisks the very seeds of life from here,
Across the lands and earth she shall insist,
To where the land upon she deposits to bare,
The life on earth she ensures will persist,
The only sight, to look above and stare,
The Skye, the very nature of beauty's air,
Of which there is no matter to compare,
For the only matter, is what she does share,
A song of life, love, and nature to compose,
From within her presence our love she sows.
By Ryan Gibson, November 7th 2009
To a loving person who has always found the way to show such a beautiful air to her presence, her essence, that she shares with her friends. Thank you Skye and Happy Birthday.
Written in Johannesburg South Africa

Tweet This Post